PendoTECH is proud to offer Single-Use UV Absorbance and Turbidity measuring and monitoring tools that collect data from the stream, while it is processing, resulting in less disruption to bioprocessing operations compared to measurements taken off-line. PendoTECH's Single Use UV Flow Cell uses a compact photometer with fiber optic cables to measure the UV absorbance in filtration and chromatography applications without product contact. Additionally, stainless steel flow cell options are available. Our Turbidity Flow Cell and photometer measures the turbidity of un-clarified material from a bioreactor or fermentor, or measures bioprocessing liquid after it flows through a filter to provide consistent monitoring of filter performance. PendoTECH's Single Use UV Flow Cell is cost-effective for disposable applications, but also may be repeatedly cleaned and reused. Both our UV and Turbidity Flow Cells can be integrated to a monitor with data acquisition capability or a control system.
PendoTECH UV Absorbance Data Sheet
PendoTECH Single Use UV Absorbance Sensors™
In bioprocess operations, the UV absorbance of a liquid solution can identify either the absence or presence of the molecule of interest. The measurement, typically at 280nm, is made by a spectrophotometer either in-line or off-line in a cuvette. A collimated beam of light passes through a sample with a defined path length and the absorbance is determined as the ratio of the light applied from the source to what passed through the sample. The PendoTECH Single Use UV Flow Cell enables the measurement to be made non-invasively. It is low cost for single use applications and may be repeatedly cleaned and reused. The flow cell is easily integrated to tubing and the measurement is made by use of a compact photometer with fiber optic cables. This flow cell contains a special glass window on the wall and compartments to attach the light source and detector. The stream to be measured flows between the windows by way of tubing attached to the hose barb ends of the flow cell.
Flow Cell Technical Details
Applications include filtration and chromatography
1/2 inch tubing fitting
1 cm path length
Unobstructed flow path & no dead legs
Qualified for use to 75 psi (5 bar)
Compatible with gamma irradiation
All polymeric materials meet USP Class VI
Each sensor is tested for quality and accuracy during manufacturing and rejected if out of specification
Manufactured in a clean room in an FDA registered, ISO 13485 facility
Low cost
Caustic and chemical resistant polysulfone
Certificate of quality included with lot certification
PendoTECH Turbidity Flow Cell & Measurement Unit
In bioprocess operations, the turbidity of the liquid after a filter can be measured as an indication of filter performance. It can also be used to measure unclarified material directly from a bioreactor or fermentor. The measurement may indicate undesired components are "breaking through" the filter meaning the filter is losing its capacity. The turbidity measurement at 880nm can be used in conjunction with pressure measurements in constant flow filtration processes to give an overall measurement of filter performance. To make an online turbidity measurement, use a device such as the PendoTECH Turbidity Flow Cell versus taking a discrete sample and measuring offline.
Photometer
There is no display or readout on the compact spectrophotometer because via its transmitter function, it is designed to be integrated to a monitor with data acquisition capability or a control system. The raw output of the transmitter output in is a 4-20mA signal spanned to 0-2 AUs.
PendoTECH offers data acquisition capability with it PC based PressureMAT Software or it may be integrated to other PendoTECH products. PendoTECH also offers a test rig and standards, SPEC-TRS (click for specification sheet) to confirm accuracy of the photometer against calibrated standards.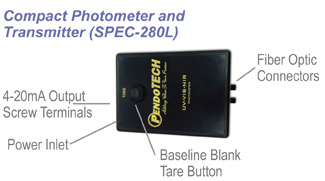 SPEC-280-TRS: Test Rig for UV-VIS-NIR photometer
SPEC-XXXL: Photometer with XXXnm light source, 4-20mA output, 2 fiber optic cables, 2 optical couplers to connect to single use flow cell, 24VDC power supply. XXX = 280, 260 or other
SPEC-XXXP: Photometer with XXXnm light source, 4-20mA output, 2 fiber optic cables, 2 optical couplers to connect to single use flow cell, panel mount. XXX = 280, 260 or other
SPEC-XXXL-PHOTO UV: Photometer w/XXXnm Light Source, 4-20mA Output, benchtop model, with 24VDC Supply. XXX = 280, 260 or other
SPEC-XXXP-PHOTO UV: Photometer w/XXXnm Light Source, 4-20mA Output, panel model. XXX = 280, 260 or other
SPECPS-N-025: Single Use UV Flow Cell, .5cm path length, non-sterile, polysulfone, 1/4 inch hose barb
SPECPS-N-050: Single Use UV Flow Cell, 1cm path length, non-sterile, polysulfone, 1/2 inch hose barb
SPEC-OC-SUT: One Replacement optical coupler for Single Use Flow Cell
SPEC-OC-FIBER: One Replacement Fiber Optics Cable (3ft / 1M)
SPEC-OC-FIBER-2M: One Replacement Fiber Optics Cable (6ft / 2M)
SPEC-OC-FIBER-3M: One Replacement Fiber Optics Cable (9ft / 3M)
SPEC-OC-MICRO: One Replacement Micro optical coupler for Stainless flow cell
SPEC-OC-PANEL: Panel mount SMA-905 connector (for pass through)
SPEC-880-1CM: Absorbance flow cell, stainless steel with 1 cm path length (with path length adjustable down to 0.5cm)- inlet / outlets must be specified (3/4" sanitary flange, hose barb in sizes: 1/8, 1/4, 3/8, 1/2in)
SPEC-880-1CMLH: Low hold-up Absorbance flow cell, stainless steel with 1 cm path length, 0.75ml hold up. 1/8inch barb inlet / outlets
SPEC-880-5MMLH: Low hold-up Absorbance flow cell, stainless steel with 0. 5cm path length, 0.75ml hold up, 1/8inch barb inlet / outlets
SPECSS-N-ADJ-M Stainless steel UV Flow Cell, with nano couplers 0.05 to 2 mm path length; inlet outlet fittings to be specified by user (3/4" sanitary flange, hose barb in sizes: 1/8, 1/4, 3/8, 1/2 in); fibers ordered separate
SPEC-XXXP-BOX: Photometer with XXXnm light source, 2 fiber optic cables, 2 optical couplers to connect to flow cell, mounted with integral display
PDKT-SPEC-880L: Photometer with 880nm light source, 4-20mA output, 2 fiber optic cables, 2 optical couplers to connect to flow cell, 24VdC power supply
PDKT-SPEC-880P: Photometer with 880nm light source, 4-20mA output, 2 fiber optic cables, 2 optical couplers to connect to flow cell, panel mount
PDKT-SPEC-880-4: Model for 4 station unit
SPEC-880-1CM: Absorbance flow cell, stainless steel with 1 cm path length (with path length adjustable down to 0.5cm) – inlet / outlets must be specified (3/4" sanitary flange, hose barb in sizes: 1/8, 1/4, 3/8, 1/2 in)
SPEC-880-6CM: Turbidity flow cell, stainless steel with 6.5 cm path length – inlet / outlets must be specified
SPEC-880-6CM-L: Turbidity flow cell, stainless steel with 6.5 cm path length – inlet / outlets Luer
SPECPS-N-050: Single Use UV Flow Cell, 1cm path length, non-sterile, polysulphone, 1/2 inch hose barb
SPEC-OC-SUT: One Replacement Optical Coupler for Single Use Flow Cell
SPEC-OC-MICRO: One Replacement Optical Coupler for Stainless flow cell
SPEC-880-1CMLH: Low hold-up Absorbance flow cell, stainless steel with 1 cm path length, 0.75ml hold up. 1/8inch barb inlet / outlets
SPEC-880-5MMLH: Low hold-up Absorbance flow cell, stainless steel with 0. 5cm path length, 0.75ml hold up, 1/8inch barb inlet / outlets